Baker Street Then and Now (and the Future of Heritage?)
Curated by Rod Taylor
Did you know that Nelson, BC has the highest number of historic building per capita than any other city in BC outside of Vancouver and Victoria? Nelson has also managed to retain a main street that has consistently been a vital and dynamic part of the community. Since being re-discovered in the early 80's, the historic buildings and pedestrian-friendly downtown continue to characterize the heritage that the city has become so well known for.

In 1977, as part of a broader initiative around urban heritage conservation, the BC Heritage Conservation Branch initiated a study of heritage structures in Nelson. A small part of this process involved creating a streetscape montage, in which buildings on both sides of Baker Street were photographed, cropped and then pasted up on mat board. These (or similar) photos were used afterwards by designers and architects such as Bob Inwood as a basis for proposing updated designs that were more sympathetic to the original buildings. After the study was completed, the photos were almost thrown out! Fortunately, they were spotted in the trash by someone who recognized their value and returned to Nelson, where they currently reside in the Shawn Lamb Archives at Touchstones Nelson.

For exhibit curator Rod Taylor, these photos were the catalyst for show. "Not only are they an amazing historical document of Nelson architecture, but I think they're almost a mix of art and history, if an unintentional one. Certainly Stan Douglas's piece Every Building on 100 West Hastings Street comes to mind."

This exhibit will feature digital copies of the montage, with a present day version for comparison. It will also consider other examples of what heritage may look like as we move further into the 21st century.

According to Taylor, "The subject of heritage is a dynamic and ongoing discussion, both in Nelson and beyond. There are definitely differing opinions about it, and my hope is that in some small way this will also help encourage and continue that dialogue."
Starting June 23, the exhibit will also have a virtual component via the website Historypin. Visitors to the Touchstones Nelson channel on the site will not only be able to view many of the exhibit photos online, but see their actual location on a map, and add their own stories if they wish. The site also offers a free app that includes the ability to overlay historical images that are near their location onto the present day view using their mobile device.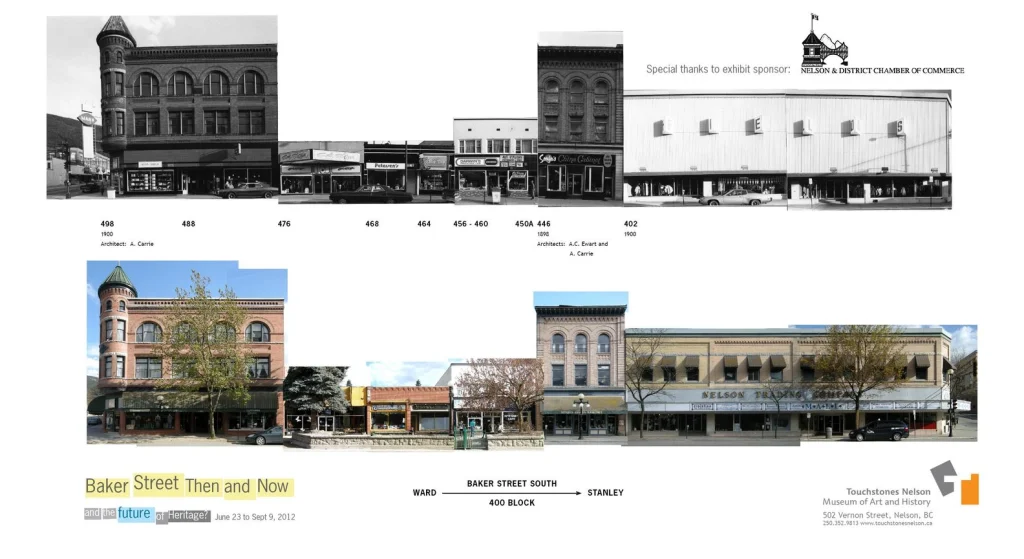 If you were looking down Baker Street in the early 1900s, what would you see?
Here's your chance to find out! We've just added a number of postcards from the "Greetings From Nelson" exhibit to Historypin. The site lets you look at historic photos in Google streetview and fade the historic photo in and out to compare it with the present day view.

See Also