Curated by Deb Thompson
In 1966, maverick French fashion designer Yves Saint Laurent (1936-2008) produced Le Smoking, the first tuxedo for women. This bold move in women's fashion paralleled the emergence of a feminist revolution that swept through the art world in Europe and North America throughout the 1970's in what was later labeled the first wave of feminist art. Saint Laurent's tuxedo displayed what might be called an androgynous style that signified the emergence of women in a traditionally male dominated world. Equality was the word. Free from oppressive restrictions (literally so when it came to fashion), women could live the lives that men had dominated in the art world.

In 1969, young Angelika Werth, fresh out of a dress design school in Germany, relocated to Paris looking for work and a chance to study French literature. She soon found herself employed in the studio of Yves Saint Laurent where she worked as a dress-maker for three years. Saint Laurent's avant-garde designs, theatrical fashion shows, and other revolutionary business practices, flavoured Werth's art practice in what has become a successful career in wearable sculptural garments.

Werth tastefully and skillfully serves up an empowered voice of the feminine in her art, much like Judy Chicago's (1939- ) Dinner Party (1979) whose elegant ceramic plates, needlework table runners and select silverware commerated the lives of women giving voice to hundreds of women who were otherwise over looked in mythology and history. Similar to Judy Chicago and her contemporary Miriam Schapiro (1923 – ), Werth emerges in the art world from the roots of the domestic sphere. This bringing forth of art from non-tradition mediums and processes is one of the hallmarks of early feminist art.

Werth's relationship to feminism is both personal and political, for example, her 1992 – 2002 Brasserie Quilt Series was made in response to the rising incidence of breast cancer among women and the low level of funding for research it was receiving. Werth's famous Madeleines responds to a french saying, Pleurer comme une Madeleine or to cry inconsolably. Werth's Madeleines stand firm and brave in their felted armour ready for the world.

Ladies in Tents is a departure from Werth's previous focus on hand felted material – a choice inspired by her interest in creating strong, fine, thin felted material pliable enough to form into wearable garments. The Ladies in Tents series has several roots of conception for Werth. While rummaging in Nelson's Salvation Army clothing store, a favorite pastime for Werth, she found an old canvas pioneer tent that was to be the beginning of her first tent dress.

Poignant in Werth's memory are images of homeless people sleeping in European Cathedrals, protected under the roof of the mother church. [I am reminded of the images of Mary with her open cloak taking in the world]. Synchronistically, Werth was reading the poetry of Renaissance writer Christopher Marlowe (1564-1593) musing on lines from The Passionate Sheppard to His Love. Werth imagined a love story beneath the canopy of a tent dress.

This covert love affair beneath the veil of fabric summons a poetic metaphor for Werth's practice. The boxing gloves have dropped and the skirt is widely cast for a new sort of union. A new garment in the history of feminist art: a wedding dress arcs across the gallery.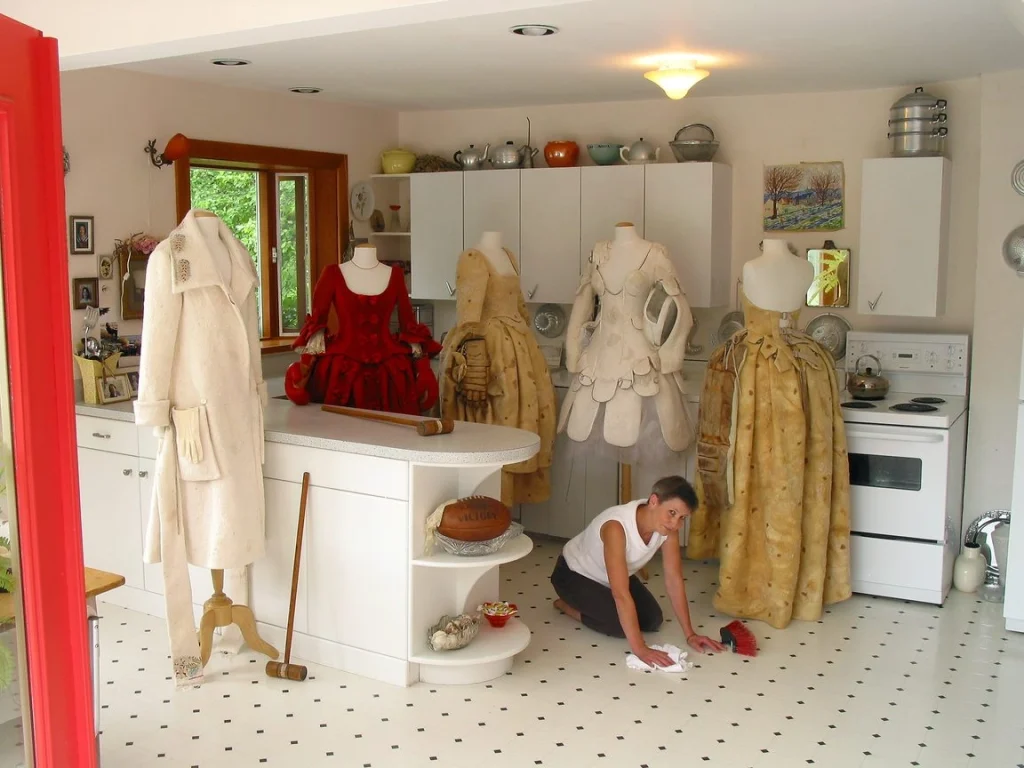 Angelika Werth
Angelika Werth is a contemporary sculptor/designer working in fiber. Influenced by her time in Paris at Yves Saint Laurent, her theatrical garments are both stand-alone sculpture and wearable art. Meticulous craftsmanship, aesthetic beauty and innovative design are the hallmarks of her work.

Angelika's work has been exhibited widely in Canada and abroad and is included in private collections from the B.C. Provincial Collection to the Cambridge Art Gallery in Ontario.
She has received awards from the B.C. Arts Council, Canada Council and won second price in an international exhibition in Chateau Chassy en Morvan, France. Long recognized for her exceptional skill level in contemporary craft, Werth received the BC Creative Achievement Award in 2008 and was chosen to be this year's cultural Ambassador in the Arts for the city of Nelson.

Angelika also teaches Pattern Drafting and Design, Fibre Construction, Advanced Detailing, Advanced Pattern Design, Draping and Upholstery and Objects for Interiors for the Kootenay School of the Arts in Nelson as well as workshops around B.C. and Alberta.

Statement on the Marlowe Tent Dressed, by Angelika Werth