Florence Debeugny: PRECAUTION
Curated by Deborah Loxam-Kohl
PRECAUTION is a body of photo-based work by Vancouver artist Florence Debeugny. Florence's work was selected for exhibition in the Mildred Erb Gallery in 2003, but was cancelled when a fire closed the former art gallery and museum to the public. We are pleased to offer her the opportunity to exhibit her work in the new gallery space.

It was while photographing an abandoned shipyard four years ago that she first noticed CAUTION printed on yellow plastic tape and the omnipresent warning became evident to her. She then began photographing the many CAUTION signs adorning Vancouver industrial and commercial sites, documenting the life scan of CAUTION tape as it was transformed from brand-new and shiny with its sharp black letters, posing a forbidding linear barrier, to a dejected-looking shapeless form, no longer able to stand at attention and perform its intended role.

Florence explains the ideas contained in the work: "It is a powerful symbol, causing us to detour around a site, despite the absence of human authority. This message has entered our subconscious, with its connotation of warning and danger, but do we even bother reading the words? The linear and stretched shape, bright colour, dark letters, and location are enough to stop us from entering the areas it guards. Because we know its role and take its warning for granted, we seldom take the time to approach, to get close enough to read the words, to isolate which danger we are cautioned against, to question the essential characteristics of this inanimate perimeter guard.

In our daily lives, we are continually warned of places in which we must not be: they are considered dangerous, off-limits; they are where access is denied; they are areas around which we detour. We are warned about behavior in which we must not engage: we must not enter, spit, or eat/drink/smoke; we must not fold, staple, or write below this line; we must stop, yield, slow, or merge. My photographs intend to lead viewers to examine the caution we have imposed on our lives, the insidious creep of caution in our lives, both in the moment and as we age, and how caution ties our lives into knots".

The exhibition represents a selection of images from the "mid-life and end-life stages" of the cautionary tape where the passage of time has contributed to its physical deterioration slackening the rigidity of the tape and fading the letters.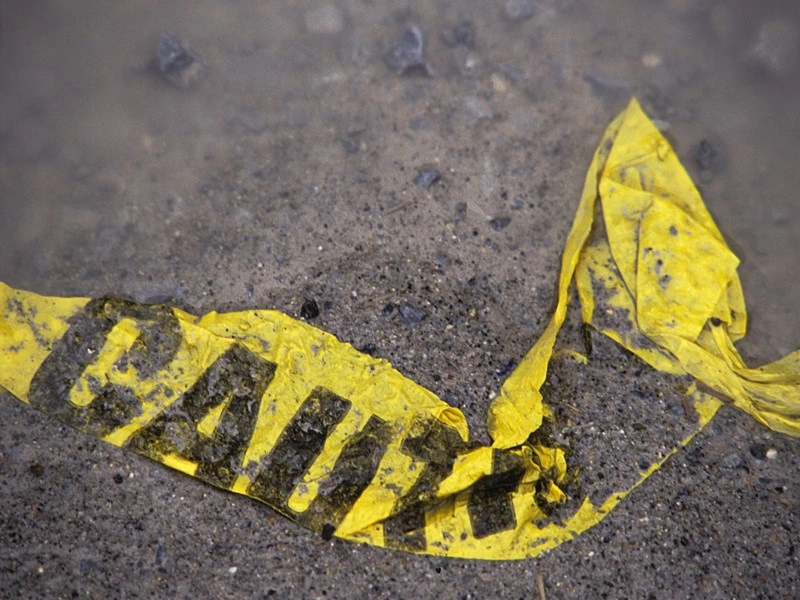 Florence Debeugny
Florence Debeugny is a visual artist based in Vancouver, BC, on the traditional territories of the xʷməθkʷəy̓əm (Musqueam), Sḵwx̱wú7mesh (Squamish), and Sel̓íl̓witulh (Tsleil-Waututh) Nations. She has exhibited photographs in art galleries, museums and private collections since 2000. Her work has been framed, mounted, installed with found objects, integrated with sound and video, and has also formed part of collaborative projects with other artists.

She focuses her artistic practice on architectural photography of British Columbia's changing industrial landscape, documenting abandoned or partially run-down structures before they disappear, as seen in At the Edge of Wilderness, Almost Gone – Remains of Cannery Villages and Maillardville 100 years and beyond. Her work raises questions of progress, architectural preservation, housing and culture. She has also developed a photographic abstraction style, as seen in the series' Deterioration, Through and Precaution