Curated by Jessica Demers
This exhibit showcases the photographs of J.H. Allen (1878-1969), and celebrates the mark he has made on the landscape of our local history through his contributions as a photographer and community member.

From 1919 until his death in 1969, Allen operated Allen's Art Shoppe in Nelson, a photo-finishing business which also served as a venue for marketing his own work. Between 1920 and 1960, Allen created hundreds of black and white photos, and garnered acclaim for his hand-coloured prints, which can still be found in homes throughout the area.

The technique of hand-colouring photographs was first used in the mid 1800's in order to give a greater sense of realism to black and white prints. The process typically involved applying water-soluble dyes or watercolour paints with a brush. It was used until the mid-1950's, when Kodak introduced Kodachrome colour film. However, since the 1970's there has been a revival of interest in producing and collecting hand-coloured photographs.
A lens into the past, Jimmy Allen's photographs provide a portrait of Nelson over more than three decades, documenting changes in the urban landscape, as well as celebrating the lakes, rivers, mountains and country roads which he explored year round.

The work on display is from the Touchstones Nelson permanent collection, as well as on loan from local collectors. Touchstones Nelson gratefully acknowledges local collectors Stan Sherstobitoff, Lou Coletti, and Perry Hale for lending many of the tinted photos for this exhibit. More of Allen's photographs can be seen on our Archives' Flikr photostream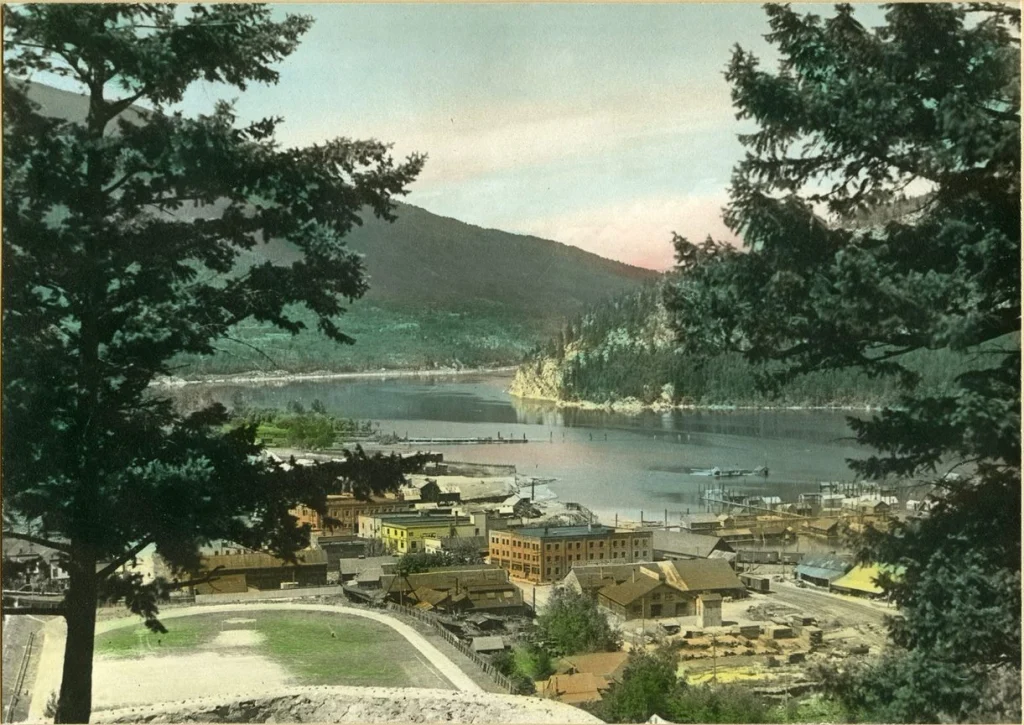 J.H. Allen
James ("Jimmy") Hamilton Allen was born in Walkerton, Bruce County, Ontario on August 17, 1878. He arrived in Nelson in 1899 with $20 in his shirt pocket. The next day, he accepted a job as a deckhand on the SS Moyie. He later worked at the Hall Mines smelter, and was in charge of Nelson's No. 2 Fire Station, which was located on Observatory Street. Allen then left Nelson for several years to work as a surveyor in Penticton and Naramata B.C., as well as Red River Valley, Saskatchewan.

He returned in 1910, and began working at the Burns wood mill plant making doors and windows. At this time, he moved into a room in the Legion building, where he would reside for 53 years, before moving into a room at the Royal Hotel.

Allen was never married, although he was engaged for a time in the early 1920's. He even bought a house which he planned to move into with his future wife, but she ended the relationship and he sold the house.

Allen bought his first camera in 1905, and quickly became an ardent photographer. In his leisure time, he explored the local back roads and trails, and high country with his large format camera to record the beauty of the mountains, lakes and forests. Eventually he made more money selling his tinted photos than he did at the mill, and in 1919 he left his carpentry work to open Allen's Art Shoppe at 413 Ward Street. The business later moved to a location on Baker Street.

An avid sportsman, Allen was a curler for over 40 years and a bowler for almost 50 years, winning many trophies with his teammates. During his lifetime, Allen contributed to the community in Nelson in many ways. In 1953 he invested $25,000 to create a $1,000 scholarship at Nelson High School (now L.V. Rogers Secondary School) for male students who planned to enter careers in the Christian church. The scholarship is still available for grade 12 graduates. Allen also contributed funds to support the Christian Education Committee.

In 1959, Allen was awarded a service shield at St. Paul's Trinity United Church, honouring his 50 years in the church community. For a time, he was also the director of the Nelson YMCA. "Jimmy" Allen is fondly remembered by many as Nelson's first established scenic photographer, and an outstanding community member.