From the Touchstones Nelson Permanent Collection
Curated by Deborah Loxam-Kohl
The Irene and Andre Orbeliani Collection is a contemporary art collection comprised of over forty, two-dimensional artworks, primarily paintings and prints that were collected over a thirty-year period from local artists who have made Nelson and the surrounding area home.

Irene and Andre Orbeliani resided in the Kootenays for almost half a century. They both came from families of artists and added to an already existing family art collection with the work they acquired here. They were strong supporters of Nelson having a public art gallery and bequeathed the Collection to the Nelson Museum, Archives, Art Gallery and Historical Society (Touchstones' legal identity) in 1999 as a founding collection for the new gallery that would eventually open in 2006 – the new museum and exhibition space Touchstones is today.

Selected works from the Orbeliani Collection were first exhibited in 2002 as part of the Painting our Past exhibition held in Nelson's former Sports Centre. The upcoming exhibition will feature approximately twenty paintings from the Collection, exhibited in Gallery B from November 17th to January 6th, 2008.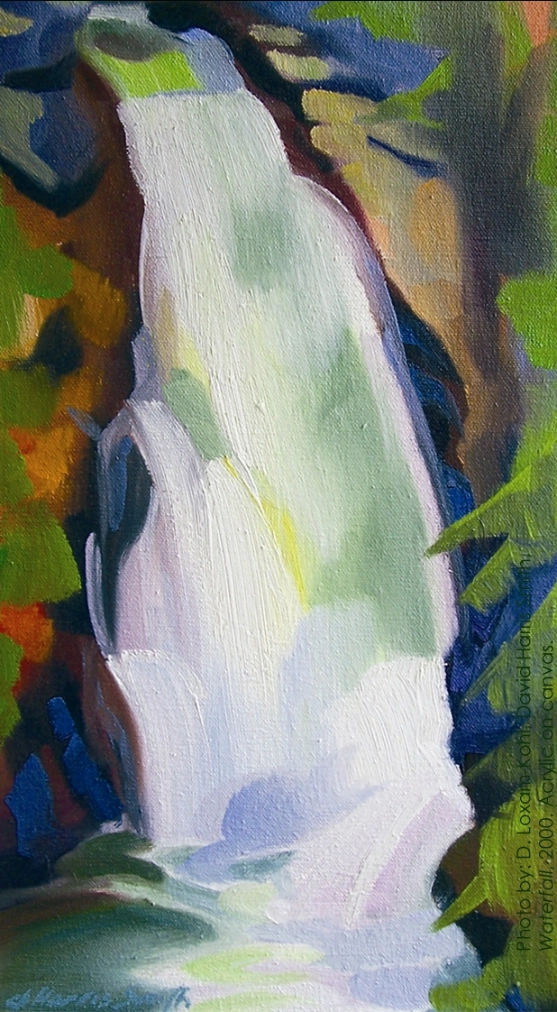 Andre and Irina Orbeliani
Prince Andre Alekseevich Orbeliani was born on March 12, 1901 to Princess Mary Orbeliani (née Bulatovich) and Prince Alexei Orbeliani of Georgia. In 1920 he began studying in the electro-technical faculty of the Tbilisi Technological Institute. In February 1921 he and his parents traveled to Istanbul and from there – to Belgrade, where they settled. In 1923 he had the opportunity to study in the Leuven Catholic University in Belgium and got his degree in electromechanics. In 1931 he signed a contract with a Portuguese firm and began work in Angola and in 1936 he began working for a new company that had him relocate to Belgium Congo. In 1939 he returned to Europe where he met Irina Zozulina (born October 3, 1911) and the couple got married on February 1, 1940, in Belgrade. From 1945 to 1947 they worked in Congo after which they returned to Europe. The couple considered moving to Argentina, but when Canada opened up its borders to all immigrants from outside the Commonwealth countries, they applied. They moved to Canada in 1951 and became citizens in 1957.

Andre worked in the Canadian exploration mine of Placer Dome in Salmo for 12 years. They then moved to Prince George for his new job at the Endako mine. In 1970 Andre returned to Salmo to redesign the Tungsten mill until his retirement in 1972, when the couple moved to Nelson. Their first address 624 Victoria Street and they later moved to 609 Second Street. In Nelson, Andre volunteered to assist the city, where he worked as a technical advisor, working closely with building inspector Arvid Schneider. He resigned from his position after ten years of service due to deafness. During her retirement Irina took the opportunity to enroll in classes in art school. The couple celebrated their 60th wedding anniversary on February 1, 2000 and received a congratulatory card from Queen Elizabeth herself. Andre Orbeliani passed away on October 9, 2000. Irina passed away March 9, 2005.

Andre Orbeliani was a man of many talents. He was able to speak seven languages – Russian, French, English, German, Serbian, Croatian and an African language he learned while working there. After his retirement he had time to develop his hobbies, which he had previously not had time to focus on. He taught pottery, enjoyed gardening, astronomy and Greek mythology. He was an excellent chess player and enjoyed kayaking and sailing. He learned stained glass from Tam Shields and weaving from Irene. Weaving was a hobby that he enjoyed even later in his life, when he was 90% blind. He was also an avid writer, having published a volume entitled Twenty-eight Grams of Poetry in the 1970s. Some of his other works include: The Spirit of Cards, The Luftinspector, Advise for Fortune Tellers, The King's Jester, Russian Clergy in a Labor Camp, A Cabin for Rent, and The Blue Diamond.